Written August 2000
Also attached here is a letter sent to the 7th-8th grade girls in Woodstock School's K-Wing dorm with whom I was "matron" in 1962-63. That message is followed by more recent photos of some of those dorm girls become women.
If worldview is measurable, mine more than doubled between 1962 and 1965. In my twenties, I crossed mountains and cultures. The Himalayan peaks we first saw in the dark of night, thanks to splashes of lightning displayed outside the airplane's narrow window. Served a whole mango at the first motel breakfast, I paused, not knowing how to tackle it. The bearer, his peaked headgear complemented with a cloth draped neatly over one forearm, noticed my need. Having wondered why he hovered near our table, stopping to rearrange the salt and pepper shakers, I welcomed his carving off the 'cheeks.' Then I balked again over the drippy mess from handling the large, oval seed.
I arrived in India a naïve believer in human goodness. Open to new and untested experience, what unfolded was rich beyond expectation. Not monetary, the wealth in store came through travel, religious diversity, and maturing friendships. Riding third class sleeper on India's massive rail network provided sights and sounds plus a silent accrual of dust. Shedding shoes at the entrance to temple or mosque enhanced an aura of holy ground. And intimacy begun—with those like Diana, Fyrne, Thelma, Abhinandan, Ramath, and Shanti—never dissolved.
Throughout childhood and youth in a rural Iowa community, I had known increased self-awareness, curiosity, and trust in the Divine. But my 'world' consisted of the United States: having toured Yellowstone National Park and the monuments in Washington D.C., having known one African American student in my high school, and having flourished through college dorm life and extra curricular bustle.
Invited by Dr. Ernest E. Miller during our first year of marriage to teach at Woodstock, an international school in the foothills of the Himalayas, my husband and I welcomed the venture. During the first night on the hillside, from an altitude of over seven thousand feet, I looked out at the nearer bright stars and said, "Hey, I'm halfway around the world from home, and that's the same moon that I see when over there." The Boeing 707 that enabled our trip made seven stops en route. The restroom area in each transit lounge added cultural details: in London, each square of TP was marked "Property of the Queen." At Middle East stops, a woman personally handed a towel to patrons after washing, whether in facilities marked for women or men. During that first early dawn bus ride, from Delhi's international airport made stark by lack of technology to the Janpath hotel, I noticed more than farmers headed toward small fields.
By the time we had left Istanbul, western faces were markedly in the minority. By contrast, when boarding our 1998 flight from Chicago's O'Hare, I stopped, almost balked when more Indians than Americans seemed headed with us to Chennai (formerly Madras). The official U.S. opening of immigration limits in 1965 had indeed changed the face of flyers from her exit ports. Compared to India's population of 350 million during our Sixties stint, her current billion does not include thousands of NRIs (Non-Resident Indians) who regularly wend their way back to extended kin and business booms. The meaning of minority therefore shifts with worldview.
What were details of my maiden experience as a foreign woman? Having people, especially groups of young men, stare at me, boldly, without apology. How could a newcomer defend herself? To 'stare down' the culprits was not culturally wise, I learned. To shed the look of innocence and inexperience was crucial. To ignore unwelcome gestures while keeping alert to them proved to be a practical paradox. Not wishing to be tagged a North American 'hippy' was one goal; having recently read The Ugly American alerted me to further cautions.
Clothes became a factor. Being western made wearing western clothes a logical choice. But in the early Sixties even Woodstock girl students were not permitted to wear jeans, except on weekends (and then not when going to the bazaar). As teacher of girls' physical education, I justified eating meals in the faculty dining hall in slacks or sweat pants, but shifting to English teacher involved more than a change of subject matter. Fortunately, some of those dress codes underwent altering during my time on the hillside. And equally fortunate, the shawar chemis, an Indian two-piece tunic with baggie pant combination, functioned well for traveling.
Obviously, a well-draped sari, as worn by most Indian women, reveals a fashion most elegant. Not from colored bolts that unravel ker-plunk, ker-plunk on a fabric counter, a sari of five-to-six yards speaks of wholeness. Most Indian women wear it well, gliding over space with grace. But, self-conscious about keeping the folds and shoulder drape in place, I seldom donned what required a friend's assistance. Wearing one to a wedding in Delhi during a pouring monsoon shower did not make wading through puddles easier either. But Indians bunch the bulk of cloth with left hand deft. They "swab" the floor with rag or dung. They ascend a stairway with infant in hand. They play with mystery—"ever concealing, yet revealing." Having missed a cultural opportunity to fully credit India's distinctive garb, I do recognize how effectively saris display design and subtle color. Of homespun cotton or sleek silk, each is a miniature gallery.
To merely mention the monsoon avoids justice to its role in sustaining life—human and other. Crops to feed India's billion depend on the monsoon. Failed rains prompt other failures of economic or grain and oil needs. Even worship depends on water and its sacred symbolism. A stream-of-consciousness flit through memory uncovers details. Welcome the first cloud burst across the Himalayan foothills, after a month of dusty dust and threats of fire from brittle twigs on parched hills. Let Shiva, Yahweh, or Allah—different names for the One God—be thanked in whatever language or dialect. For, streams of a monsoon season, beginning from a trickle, meander, then surge uncontrollably in a prolonged attack. Then, weeks later, duly honor the sun as it again convincingly shares its gifts of warmth and light.
Coping with rain takes on different forms. The dhobi struggles to get laundry dry within a week. Perhaps his child makes a bed of underclothes, testing the impact of body heat. Or when desperate, the bed sheets may just be re-ironed, without engaging the cool, mountain stream or flat stones for whipping. On the open bookshelf, mold forms wherever glue hides. A thin layer of scum gathers also on shoes left in the almirah, despite a small-wattage bulb left lighted among the hanging shirts in the wooden closet. The camera bag is stored there too. One night we moved the bed twice, to avoid drips that soaked through the ceiling. Thirteen inches of rain in one night, most of it within four hours' time, played havoc with a bucket, hooked near the ceiling. To refinish the walnut coffee table from Kashmir became essential.
Valleys, temporarily lost in mystery, fill with low-lying clouds then once again re-veal their paths as the mist rolls on or rises to evaporate. That same mist surrounds the campus. With walls on two sides, the gym's cement floor gets too slippery for worn sneakers. Gullies and drains overflow. Diverted rubble washes down from points higher and the khud's supporting layers of stone give way below. The athletic field takes the squeeze as the track's staggered starts lose their standard measure. Uprooted trees, soaked soil, and rock slides block former paths. Even cottages may lose their 'footing.' Wired communication gets cut off or delayed; shouts of "Hello, Hello" fail to resurrect the phone lines. With major slides of debris across the ghat road, passengers depart one bus to crawl over the uneven rubble, to board another one to finish the ride. The steep incline and hairpin curves remain constant, however.
How the students brag during monsoon days about hiking along dense paths. They collect as many as fifty innocent-looking bits of twig that attach to skin, blood-sucking leeches. Never breaking one off, the sucking continues through the connected end. Hopefully prepared, each finds a packet of salt in the depth of one's pocket. Dropping that which preserves food directly onto the leech makes it drop like a water-logged tennis ball, bulged and thick. Hiking on, students note floral mysteries opened overnight—miniature lavender orchids and wild dahlias made wilder through orange and reds. Students in biology class gather specimens of fern—100 types at most—from shaggy, stubby oak trees. With a population explosion of their own, ferns stretch out eight to ten inches from the shiny bark, producing both shade and beauty.
No season is complete without a few soaking hikes. Mid-monsoon, the principal announced one bright morning a day off from classes—a "clear day holiday." Get out and enjoy the sun. Being 'matron' of the junior high girls' dorm, I with thirty eager kids headed out the winding Tehri Road. To scan the horizon, a portion of India's plains with a meandering riverbed stretched miles below, was a sight even Kodak could not replicate. We had barely finished our sack lunches several miles out when the umbrellas went up. Two heads under one 'umbie' produced one wet left side and one wet right side of "Saimese pairs." Once soaked, we turned the umbrellas into walking sticks, for steeper grades. Slushy tennis shoes bubbled, revealing latent laundry soap not fully rinsed. Favorite songs ("With a pack on my back, there is nothing I lack") brought the hills to life. Laughter resounded as clusters of giggling girls enjoyed each other's antics. So what if a cloth shoulder bag gets damp; soggy sao (the Indian version of LaChoy noodles) is better than no sao. And friendships deepen through sharing.
Younger Woodstock students enjoying an activity in the Quad area.
.
Walls and pathways near Woodstock campus.
Being 'substitute' mother to young girls separated from their parents—parents who worked elsewhere in India or nearby countries—was a gift of the Sixties to me. I had enjoyed a year as a college women's dorm supervisor. Not much over a decade older than they, I enjoyed junior high age fun and sincerity. I was amazed to see them adapt to a large dorm room of bunk beds. Each had a trunk under the bed; each shared dresser drawers. How I treasure a recent Facebook note from Ruthie: ". . . How inspirational you were to me. Thank you for all you did for girls who desperately missed their moms and dads!"
Letter to K-Wing Girls
Sent early 1963, when they were on vacation from school with their parents, and J and I were traveling in India
Dear K-Wingers,
This is just a little note to remind you that before long this school year's vacation will be history. I hope that you girls have been having as enjoyable and relaxing a time as we have. We enjoyed being with a number of you in your homes (Ruthie, Margie, Beth Ann, Margo, Nonie, Eleanor), and I have appreciated hearing from several of you. Probably everyone will have tales to tell when we get together again.
After seeing a bit of interesting Indian village life in M. P. and Bihar states, we thoroughly enjoyed two and a half weeks in Nepal. (Nonie is really a hiker over those ridges!) Now, we're completely relaxing in the privacy of the beach near Gopalpur. Dr. Wertzes, Jim & Betsy Lehman, Harold and Sandy Shantz, Mrs. Ferguson and Bruce are here also. By now, we're convinced that Indian third-class trains add fascinating adventure! 1 I've even had enough peace of mind on them to think about possible ways to improve our dorm living next semester.
I hope that you too have thought a bit about life back at school and will feel free to make suggestions. Perhaps we might improve dorm tidiness through self-discipline that respects each other's rights. I do commend you for growing consciousness of others, not only looking out for yourselves. We'll hope to arrange the dorm furniture a bit differently. Several ladies service groups from my home in Iowa have offered to send money for some project that we choose. I have some new ideas about activities for us to do together. And, hopefully, if you've learned to bake or cook something, you'll feel free to use my small kitchen and hotplate on return.
Well, now, you'd better go finish your project, study French, or help your mother or dad. By the way, since we don't have enough bed spreads in the dorm, any of you who want to may bring an extra one along, providing your mother agrees and has one to send. Do enjoy the rest of your vacation. I'll be anxious to see you when you return on the 5th or 6th and let's make the last months of the school year meaningful and fun for all K-Wingers! Yea '6( )!
Sincerely, Dorothy Nyce
—–
Expectations for living together were on occasion reviewed and, for the most part, carried out. Few occasions for discipline transpired; the girls appeared to honor each other's needs and space. Separate from their parents for about half of the year, boarding students developed greater independence at younger ages and relied considerably on each other. In the process of pondering questions of a religious, academic, or social nature, strong attachments grew.
Woodstock being a Christian international school, K-Wing dorm girls gathered on the floor of my apartment each evening before lights out for a time of reflection—about events of the day or values useful to people loyal to any religion. Most recall fondly my reading the novel To Kill a Mockingbird. Years later, Sarra recalled gratitude for short stories and art work introduced through Christ and the Fine Arts. With dorm lights off or while on a long trek, students engaged valid questions: "Hindus also stake claims in the Ultimate; what does Christianity offer in addition?" I returned to Woodstock in 1967 for the graduation of those who had been 8th graders in 'my' K-Wing days. One grad stated: "Boarding has been an invaluable experience . . . It helped me to widen my horizons in respecting other people and their beliefs."
Religious diversity drew my attention in the Sixties; it enriched six later assignments in India and my DMin (Doctor of Ministry) thesis. Whether riding India's trains or between preparations for teaching, I read extensively about living faiths. Hinduism, with its complexity—its blending of belief systems yet distinctness from other living faiths—intrigues and puzzles me. From the local minaret in the bazaar, Muslim calls to prayer echoed across the valley. Hats worn by shopkeepers might identify religious loyalty, just as forehead markings distinguished Shaivites from followers drawn to Vishnu.
When traveling, I entered numerous places of worship. Ambivalent about invading others' sacred space that I failed to fully discern, I nevertheless wished to observe and better understand people's rituals. Their trust in One beyond themselves had integrity. At Varanasi, my lack of knowledge failed to prepare me for what seemed like 'holy chaos.' Although a Muslim guide sensitively explained that holiest of Hindu cities, our outsider status was clear. Even so, "holy ground" came to have new meaning. The quiet of near-by Sarnath—its stupas and the panorama depicting Buddha's sermons—appealed to me more. It stretched the unfamiliar less. To later stand under a bodh tree where Gautama received enlightenment also prompted holy awe, something akin to years later when I stood near the presumed site of Jesus' tomb. Touring the Ajunta Caves taught me further about an era when Buddhism and the country's leader, Ashoka, influenced Indian life toward tolerance. Yet, surface encounters always prompt a yearning for deeper Truth. Experiencing God, I longed to know what those engaged in distinct rites meant through practicing them.
Often hosted by missionaries in rural, village India, school vacation months passed quickly. My husband and I walked by mini, animist poles leaned together in fields in Bihar state. We shared in the rite of Christian foot washing, the bucket and bare feet matching a simple meeting room made of earth and hardened dung. We heard distinct tones of song, observed sincere friendship between eastern, tribal folk and westerners, and crossed rutted terrain in a jeep to join villagers (Christian and Hindu) for annual harvest ("Thanksgiving") events. A row of plodding ox carts silhouetted against the setting sun added to the sacred peace of agrarian life at end of day.
In India for the summer of 1967, features of living in a more central city, Jabalpur, revealed their depth only later. Involved with an Institute for math and science teachers, in a country pulsing with sacred symbols, dance, and temples, we keenly absorbed the interplay of culture and religion. During weekly restaurant meals with Institute staff, conversation often included themes of religion. As chunks of cheese melted in the warm minestrone soup, views blended. One Hindu professor and I pondered how my faith in a personal relationship with God differed from his profound concept of darsan—"seeing and being seen by God"—or if it mattered. At our final meeting, Mr. Ahmad gave me a gift: Muhammad Asad's Islam at the Crossroads. I felt honored. Content described a Christian's shift of loyalty to the Muslim faith. Through that experience of 'being evangelized' by a person convinced of his 'better way,' I felt neither defensive nor offended. I trusted the One God to receive and engage both of us on our chosen spiritual journeys.
How junior hi girls do become mature women! And how special to meet a number of them in more recent years. Good memories linger over fifty years!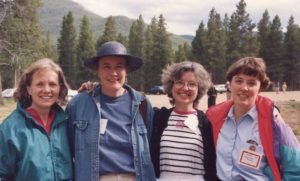 Beth Ann (B), Margo (W), Lucy (W), and Kathy (C) at a Woodstock reunion in Colorado.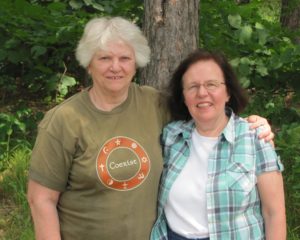 How special to spend an hour with Suzie (B) in Minnesota.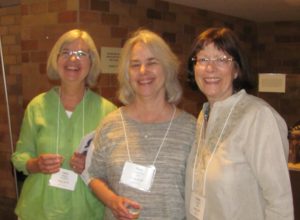 Good laughter on meeting with Lucy (W), Anne (F) and Nonie (L) at a Woodstock reunion in Minneapolis.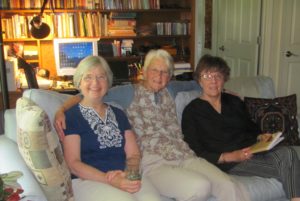 How very special when Lucy (W), Margaret (G), and Kathy (C came to spend a day with us in Goshen, IN at our present location in Greencroft Retirement.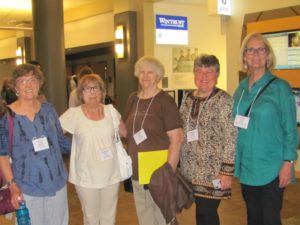 Reunions for former Woodstock students and staff occur in various cities, this one in Chicago.
Here are Kathy (C , Gwyneth (L), Miriam (R), and Anne (R) (Anne from New Zealand!)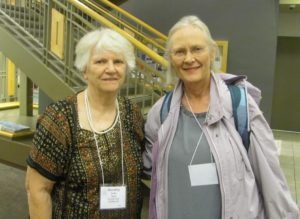 From Germany, Ursula (G) and I had not seen each other since the '60s. We met in Chicago.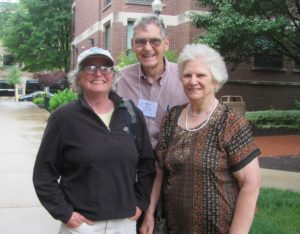 Marbeth (J) came to a Woodstock reunion in windy Chicago from Alaska.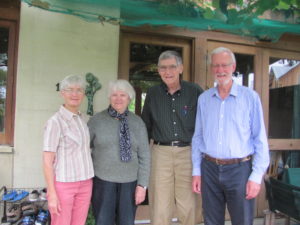 John and I had the privilege of spending six fine days in New Zealand with Glenys (R)
and her husband David in 2017.