This content regarding Mennonite (GC/General Conference, MC/Mennonite Church and MB/Mennonite Brethren) writing about Gandhi first appeared in my 325-page, self-published book titled Mennonites Encounter Hinduism: An Annotated Bibliography, 2015.1 Dorothy Yoder Nyce. "Mahatma Gandhi" in Mennonites Encounter Hinduism: An Annotated Bibliography, Goshen, IN: self-published 2015, 60-76. ↑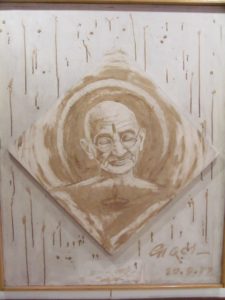 A number of Mennonites have written briefly about the noted Indian Mohandas K. Gandhi (Mahatma or "Great Soul" in Sanskrit) known as: Hindu peace advocate, social reformer, implementer of satyagraha, and leader of masses of people. Some wrote when located in India. S. T. Moyer (GC) called Gandhi's negation of British rule "satanic"; by promoting swarag (home rule) he did "all he could to break down their rule." Others judged Gandhi "blind to the evils" of caste and Hindu Brahman money-lending patterns. Moyer's solution would have been for Gandhi to accept Jesus' and his teaching of nonviolence. From Bihar state S. J. Hostetler (MC) wrote to an Elkhart office several weeks after Gandhi's death: having been invited to 'immersion day,' "I joined a procession to the river where I read Matthew 5:1-14 and gave a little tribute to Gandhi. That I could do with honest heart," he wrote. Leah Sonwani (GC), an Indian then attending the Mennonite seminary in Elkhart, wrote of Gandhi as "the brightest star of the Indian skies." She knew both British lust for power and Indian weakness; the latter was defeated by an honest, determined man.2 Leah Sonwani. Mennonite Historical Bulletin, April 1983, p. 4. ↑
In India for a Fulbright lectureship sabbatical in 1960 and with later, short MCC assignments there, life-long peace advocate Atlee Beechy (MC) quotes Gandhi as mentor: "Nonviolence succeeds only when we have a real living faith in God." Beechy learned further about building peace from Charu Choudhry whose "indestructible soul" joined with Gandhi's as early as 1925.3 Atlee Beechy. Seeking Peace: My Journey. Goshen, In: Pinchpenny Pr., 2001) 41-52. ↑ John A. Lapp's (MC) 1972 PhD study of Mennonites in India reflects their awareness of Gandhi's conviction that no need existed for conversion between religions. To prompt others to join your religion was arrogant, he thought. Lapp reports that some missioners questioned Gandhi's nonviolent techniques, describing them as "rabid, stubborn, revolutionary, and belligerent." Their critiques, however, combined with a growing defense of or love for India and Indians.
Griselda Gehman Shelly (GC) expresses an account of human interest of Gandhi the man with her father.4 Griselda Gehman Shelly. Mennonite Life. June 1983, 27 ↑ Of Mennonite background 34-year-old Gilbert Gehman, with keen interest in peace and nonresistance, wrote in appreciation to Gandhi (addressing the same to "London") after preaching on peace. Gandhi's response, sent from Port Said on 17th Dec. '31, expressed:
Dear Friend,
I must thank you for your letter of 15th Nov. last. I am glad that your congregation appreciates the non-violent means we are adopting to regain our lost liberty.
Yours Sincerely, M. K. Gandhi.
Rather than bring Mennonite writers together through a narrative format focused on particular themes, this section highlights material from specific authors' insight or experience.
A short article by Orlando Waltner(GC)5 Orlanda Waltner. "Mahatma Gandhi and World Peace," Mennonite Life, 17/2, April 1962, 55-58. ↑ reviews life details about Gandhi:
born October 2, 1869;
married Kasturba when he was thirteen and she eleven;
went to London to study law;
invited by a Muslim firm in South Africa to be a legal advisor; there he refused to submit, like other Indians were inclined, to "second-class citizenship";
formed the Natal Indian Congress; used weapons of pen and type, spades and shovels, along with satyagraha;
started a nonviolent movement: to oppose the South African 1906 requirement that all Indians register (like criminals) and to protest by 1913 that marriage of Muslims with Hindus was illegal;
launched by 1919, having returned to India, nationwide resistance to the Rowlatt Bill that permitted the British to keep people in prison without trial or through secret trial;
started a non-cooperation program with symbols of spinning wheel and homespun cloth;
achieved local manufacture of salt after two hundred-mile march to the sea proving access to salt rather than pay British salt tax; ninety thousand were imprisoned for this act of non-cooperation;
pursued first fast unto death resulting in permission for "untouchable" Indians to vote;
fearing partition to come, at age 79, Gandhi fasted until on the sixth day an agreement or peace pact was signed to restore Hindu-Muslim relations;
Gandhi died thirteen days later (30 January, 1948), en route to a prayer meeting, from a bullet shot by a radical Hindu. (55-56) "Ram, Ram" was his dying expression.
Waltner quotes eight lines of a Gujarati hymn that shaped Gandhi's meaning of satyagraha or "soul force." This hymn combined with Jesus' teaching in the Sermon on the Mount fixed in Gandhi's heart awareness that Truth cannot be destroyed. "Satya" the fact of truth and ahimsa (nonviolence or non-killing) the method for applying the fact came together. Gandhi believed that the Indian mind and heart could practice using these weapons:
We will match our capacity to suffer against your capacity to inflict the suffering.
We will match our soul force against your physical force.
We will not hate you but we will not obey you.
Do what you like and we will wear you down by our capacity to suffer.
And in the winning of our freedom we will so appeal to your hearts and consciences that we will win you.
So, ours will be a double victory. We will win our freedom and our captors in the process. (57
With the sword of satyagraha being love, Gandhi refused government protection when going directly to where partition—mass killings between Muslims and Hindus along with Sikhs—needed his message of love and peace. But fasting, after due spiritual preparation, became the major moral force for him, Waltner explains. Gandhi compared his redemptive 'conversion' known through fasting with the 'coercion' practiced by Jesus from the cross. Each made others good by taking on suffering himself. Convinced that his objective and method were correct, Gandhi set out eight points needed for agreement between Hindus and Muslims, points that favored the minority group. Then he "left the consequences to God."
Some Christians may reflect bias when questioning whether satyagraha was effective because used against British people who believed in God and human rights. So too some fanatic Hindu folk reflect bias today when negating Gandhi because he credited people other than Hindus. The Hindi word atma for eternal spirit deserves attention. "Things that make for peace" lie in the atma; the power that Gandhi reflected was atma. Waltner summarizes Gandhi's universal principle this way:
No individual group or nation needs to submit to wrongs or injustices nor need they go to war to right that wrong. There is a third way, the way of nonviolence. If nonviolent resistance is organized in a thorough and disciplined way, then the individual, group, or nation need not be forever vulnerable. Gandhi would insist that his method will conquer any and all enemies. (58)
Weyburn W. Groff (MC) did the most extensive study of and writing about Gandhi, that I know among Mennonites. He titled his 1963 dissertation "Satyagraha and Nonresistance A Comparative Study of Gandhian and Mennonite Nonviolence." Originally submitted at Princeton Theological Seminary, this doctoral work was first printed in 2009.6 Weyburn W. Groff. Sayagraha and nonresistance A comparative study of Gandhian and Mennonite nonviolence. Elkhart, IN: Institute of Mennonite Studies (Co-pub.d with Herald Press, Scottdale), 2009. ↑ Groff, when a missioner faculty member at Union Biblical Seminary in Yeotmal (Yavatmal) located in the state of Maharashtra, often took, through the 1950s, seminary students and guests the forty miles to Gandhi's Sevagram Ashram. [Some people spell the ashram name Sabarmuti.] Aware of Gandhi's hopes for "freedom for all faiths," Groff counseled Mennonites to understand that Christian faithfulness emerges in the context of multiple faiths, not in isolation. He hoped that readers of his study would gain "insight into the many efforts being made to find nonviolent ways to resolve conflicts and bring peace with justice."7 Ibid., Preface, xvii. ↑
Groff explores "Gandhian nonviolence: Satyagraha" in chapter 3. Intent to bring together teaching from the Hindu religious text, the Bhagavad Gita, and Jesus' Sermon on the Mount, Gandhi views complete renunciation as the "highest form of religion." The battle within the Gita story symbolizes a person's struggle between good and evil; the battlefield represents the human soul. Krishna, depicting the divine "dweller within," whispers in response to human Arjuna's inner struggle, his duel between evil and good. Krishna recommends faithfulness to the Divine within. Gandhi's nonviolent direct action called satyagraha, his principle of social action for a situation of conflict, is known as "truth-force," "love force," or "soul-force." It insists on Truth. For him, to realize Truth is to realize God; to realize God is to realize Truth. Through a half century Gandhi's creed became "Truth is God." Truth for him meant "what the voice within tells you" while faith expressed the "living, wide-awake consciousness of God within." Either Truth or God transpires through reason as well as living faith. Methods of satyagraha may involve any of multiple steps of civil disobedience like negotiation, strike, demonstration, self-purification, fasting, economic or tax noncooperation.8 Ibid., 77, 81, 86-94. (Groff does not always follow Gandhi's pattern to capitalize Truth.) ↑
Groff's chapter 4 is titled "Mennonite nonviolence: Nonresistance." He explains the Anabaptist-Mennonite term nonresistance as "belief that the will of God requires the renunciation of warfare and other compulsive means for the furtherance of personal or social ends."9 Ibid., 2, 125. Groff does not clearly distinguish the terms nonresistance and nonviolence though he later (156) briefly admits that "nonviolent resistance" might be a more accurate or adequate term than nonresistance. ↑ Chapter 4 highlights important writings or events through Anabaptist-Mennonite history on the theme of nonresistance:
founder Menno Simon's Fundament-Boek 1539-1540 with emphasis on truth in the scriptures;
the Dordrecht Confession of 1632, notably Articles XIII and XIV; and a cluster of meetings and writings in 1946, 1950, 1951, 1961 that highlight yieldedness, agape the root of nonresistance, and foundations of covenant, Jesus Christ, and New Testament teaching;
dynamics for nonresistance: faith, discipleship, love, responsibility, and hope; and three areas for application: 1. service and witness, 2. Social, economic, and political relations, and 3. war and military service. He notes names like Guy F. Hershberger, Gordon Kaufman, Edward Yoder, John Howard Yoder, and J. Lawrence Burkholder.10 The writer would prefer if Groff had given more attention to comparing Mennonite nonresistance with the Hindu Gandhi's Satyagraha rather than provide such extensive Mennonite history, especially because an earlier chapter focused on pacifism. Did Groff himself thereby isolate Christian thought from openness to God's possible multiple ways to redeem humanity? ↑
Several of Groff's informative statements about Gandhi include the following:
In contrast to his father, Gandhi's mother Putiba lived a very devout life: keeping fast days, regularly visiting temples, teaching the Indian maxim "There is nothing higher than Truth." . . .
Admitting a deep childhood fear of ghosts, his servant Rhambha's remedy of repeating the holy name Ramanama became a lifetime devotional habit. (46)
Gandhi liked Hindu flexibility, tolerance, space for self-expression, respect for and freedom to draw from all religions. Born a Hindu he felt responsible to remain one. (59)
Spiritually independent, Gandhi's ideas came through reading—resources like Jesus' Sermon on the Mount and Tolstoi's The Kingdom of God is Within You— actions, and inner resources. (54
Gandhi said of his first book, Hind Swaraj (Indian Home Rule) written in 1909: "It teaches the gospel of love in place of hatred, replaces violence with self-sacrifice, and pits soul force against brute force." (59)
Gandhi insisted that his leadership in India's "freedom struggle" promoted uplift for the masses and preparation for nationhood, rather than to be rid of the British government. (60)
Gandhi's devotion to Truth led him into the field of politics. (65)
Although familiar with many terms or names for God perceived through faith, none seemed to Gandhi more appropriate than Truth. Though personal, God transcended descriptions like Person. (66-69)
Cardinal virtues of Hindu thought and practice include: harmlessness (ahimsa), truthfulness (satya), non-stealing (asteya), chastity (brahmacharya), non-possession of unnecessary things (aparigraha), and fearlessness (abhaya). Elaborating ahimsa: the greatest force includes from Jain thought non-injury to all creatures. Without ahimsa, including goodness of an opponent, truth is impossible to find. (48, 71-2, 82)
Groff's final, short chapter (151-59) identifies a few ways that satyagraha and nonresistance are similar with more examples of how they differ.11 With not all of these statements does this author agree; Groff's seeming bias for nonresistance may at times glorify it. ↑
Similarities:
Satyagraha and nonresistance both see continuity between religion and morality.
Both nonresistance and satyagraha are essential to a whole way of life.
Differences:
Whereas satyagraha evolved over decades in a setting of political and social activity, nonresistance reflects religious, not political, reform. However, Groff admits that Gandhi was "essentially religious" in his political and social activity. (151)
Whereas satyagraha as a technique of direct action was conceived pragmatically, nonresistance came into being through dogma.
Whereas Hinduism and Gandhi claim that Ultimate Reality (with many names like Truth or God, and incarnations) is indefinable, Mennonites know with certainty through history and scripture something of God's nature and that God is. (152-53)
Whereas satyagraha credits humanity as good, "Mennonite belief holds that natural humankind is essentially evil and that it becomes good and responsive to good